Skip to Content
What To Do in Naples FL Blog
Our Staff Picks
---
Naples Bay Resort is here to help you plan your upcoming Sunshine State getaway. Check out our Staff Picks blog, where we highlight the most popular local spots and exciting Naples events for you to explore and experience.
Naples Is A Golfer's Paradise
---
JULY 2023
Players can test their skills as they navigate through rolling fairways, strategically placed bunkers, and shimmering lakes. The course's breathtaking scenery make it a true golfer's paradise.
For those seeking a golfing adventure, a trip north to Old Corkscrew Golf Club is a must. Nestled amidst a pristine natural setting, this Jack Nicklaus Signature Design course promises a legendary experience. With its undulating fairways, strategically placed hazards, and a mix of open and wooded areas, Old Corkscrew Golf Club challenges players of all levels.
During your stay at Naples Bay Resort and Marina, the concierge staff will be delighted to assist you in arranging tee times, transportation, and any other golf-related needs. There are a plethora of choices, including special guest access to private courses in the area, so be sure to bring your clubs!
Naples Pier: Where History Meets Coastal Beauty
---
June 2023
Having experienced the wrath of six hurricanes, the Naples Pier has been rebuilt over the years. Most recently it endured damages caused by Hurricane Ian but remains a popular attraction for visitors from both near and far. Partially reopened and with plans to revitalize, the pier offers visitors amazing views of turquoise waters, pristine sandy beaches, and breathtaking sunsets. During this season, you might even spot a dolphin gracefully swimming nearby.

The pier's enduring charm and its role as a symbol of the community continue to make it a must-visit destination.
Explore Naples by Trolley
---
February 2023
The trolley begins its run at the Experience Naples Welcome Center and ventures out through Naples with fifteen stops along the way, covering over 100 points of interest.
The experience is Hop On, Hop Off so you can stay for the whole ride or hop off anywhere and explore. Another trolley will be around in about an hour.

The Naples Trolley Visitors Guide provides a follow-along format for trolley riders during the tour. An informative introduction is offered for each trolley stop along with insights on where to go, what to see and do during their visit.

Buy tickets online at Naples Trolley Tours.
Explore the Everglades
---
January 2023
"There are no other Everglades in the world. They are, they have always been, one of the unique regions of the earth; remote, never wholly known," marveled Marjory Stoneman Douglas in her book The Everglades: River of Grass published in 1947.

Thick with mosquitoes and tough to tame, the swampy Everglades has long been unwelcoming to all but the hardiest. Airboats, built to glide atop the water with flat bottoms and back-seat propellers, helped open the door to the 1.5 million acres of marshland, hardwood hammocks, mangroves and cypress domes on Florida's tip.

Originally a Seminole Indian Village, Coopertown was founded by John Cooper and has remained in the Cooper family ever since. As Jesse Kennon, a descendant, and Coopertown's owner proclaims, "You can't see the Everglades if you can't get in the Everglades."
Pro tip: Enjoy the Cooperstown Restaurant house specialty: Everglades Frog Legs.
Bird Lovers Flock to Naples for the 2023 Festival of Birds
---
December 2022
Just starting out? Not sure what that big white bird in your backyard is? There are workshops on identifying local and migratory birds and how to find a great birding spot.
Or- enjoy a field trip like the Fakahatchee Strand Swamp Tromp (so named because participants wade through cypress forest and sloughs in water from 1 to 2 feet deep!).
Park Biologist Mike Owen will guide you through the interior of the Fakahatchee Strand, home to the Red-shouldered Hawk, Belted Kingfisher, Red-bellied Woodpecker, Pileated Woodpecker, Barred Owl, Florida black bear, River otter, Everglades mink and the endangered Florida Panther, among others.

Tabitha Stadler, executive director of Environmental Protection in the Caribbean, is the keynote speaker and will discuss the story of saving petrels, an open-sea bird. Other lecturers will discuss using drones in research, Florida scrub jays and strategies to protect nesting birds in the 110,000-acre Rookery Bay Research Reserve.
Pro Tip: Sign up early, as many activities will sell out. With a Festival of Birds' Pass, participants will get exclusive access to all Festival of Birds' activities, including eight expert speaker presentations.

Here's the event schedule.
Boat Parades, Concerts and Faux Snow Bring the Holiday Spirit to Naples
---
November 30
One more thing… There's no better way to greet 2023 than with bubbly and New Year's Eve fireworks over the Gulf of Mexico. The dazzling display is best viewed from the beach near the Naples Pier.
Shopping becomes an adventure on Naples' Treasure Trail!
---
October 25
The Trail began downtown, between US 41 and 10th Street North, and though that neighborhood remains the epicenter, over the years, the thrifting action has spread through greater Naples.

Thrifting has a new cachet- it's a way to curate a one-of-a-kind wardrobe, score high-quality goods at a low price and support your community by shopping at a thrift store that's driven by a mission. And sites like Thrifted Sister and Vintage Life empower thrifting disciples (thriftanistas) with articles like Demystifying Vintage Labels and Sneaky Ninja Tricks for Finding the Best Thrift Shop Furniture. From designer duds worn once, if ever (many still have tags), to gently worn pieces, there are great bargains to be had.
Remember, it's all just stuff if it doesn't have a story. Here are some of our Trail favorites:
•If there's an anchor store on the Trail, it just might be Audrey's of Naples.
Run by a mother-daughter-granddaughter team, Audrey's is the largest luxury clothing and accessories consignment shop in Naples and has been in the business for over 25 years.
Brand and style driven, don't be surprised to see high-end designers like Chanel, Brunello Cucinelli and Etro here, as well as boutique designers like Eileen Fisher, Gretchen Scott and J. McLaughlin. And this shop moves a lot of Gucci, Hermes and Louis Vuitton handbags!
Audrey's Facebook
Audrey's Instagram
985 5th Ave N, Naples, FL
(239) 403-8322
•Another Man's Treasure offers a unique shopping experience that's part consignment shop, part distinctive estate sale finds. The owner is a real estate agent and certified interior designer, specializing in staging client properties, and it shows in her exceptional store displays. This store is a go-to for antique furniture.
Another Man's Treasure Facebook
8793 Tamiami Trail E, Naples, FL
(239) 643-6331
•Located in the Design District, Chelsea's is a treasure trove for your home and your closet. Roam through this well-organized, beautifully staged store for… just about everything. Chelsea's has several rooms of home goods, china, furniture, decorative items and vintage clothing. In addition to well-curated vintage finds, there's also a nice collection of local art.
Chelsea's Resale Facebook
949 2nd Ave N, Naples, FL
(239) 261-0005
•Do you love Lilly? And did you know that Gen Z fashion influencers have deemed that Lilly shifts are cool again? But of course, it never went out of style here on the Paradise Coast. You'll find lots of gently used Lilly Pulitzer, along with Ann Taylor, Chicos, J.Crew, Tory Burch, Michael Kors, Louis Vuitton, Burberry... and more.
Twice As Nice has two stores- in the Design District off 10th Street in Downtown, and a second location in North Naples.
Twice As Nice Consignment Shop
Twice As Nice Consignment Shop Facebook
Downtown- 997 2nd Ave N, Naples, FL
North Naples- 4910 Tamiami Trail N, Naples, FL
(239) 263-2992

Outside of Downtown, but well worth the drive* to North Naples is The Find Furniture, the largest consignment store in southwest Florida at 14,000 square feet. The Find has found its niche in high end designer furniture and accessories, much of it from model homes.
*In fact, you may want to drive a U-Haul.
The Find Furniture Facebook
4751 Tamiami Trail N, Naples, FL
(239) 529-3698
Creepy Road Trip to Koreshan State Park
---
September 25
In 1893, the Koreshans, an eccentric religious sect founded by Dr. Cyrus R. Teed, moved here and built a commune. Teed, a 30-year-old Chicago physician, had had a revelation that he was the Messiah. He changed his name to Koresh, and in 1894 led his followers into the wilderness of Estero, Florida, where they founded a commune called the Koreshan Unity.
A central belief was that the entire universe existed on the inside of the Earth. Living celibate lives, the Koreshans established a farm, nursery and botanical garden. Teed's followers were so steadfast that they kept his body on display after his death, awaiting his resurrection.
You can find more information on the history of Koreshan here. Advances in science, world wars and the effects of celibacy took their toll on the Koreshan Unity. In 1962, the two remaining members deeded their land to the state.
The last Koreshan, Hedwig Michel, died in 1982. Since then, visitors have reported hearing voices, seeing shadow people and unexplained orbs.
The Very Best of Naples
---
August 25
Let's take a dive into all the great places to explore around Naples. On the city's north side is Delnor-Wiggins Pass State Park, one of the most pristine parks in the area. Kayakers and paddleboarders will find the launch area into Turkey Bay not only accessible but the best way to experience the delicate natural estuaries of the Cocohatchee River, paddling the short distance to the Gulf. Paddleboards, kayaks and canoes are available for rental.

For a more off-the-beaten-track experience, head to Barefoot Beach Preserve County Park, one of the last undeveloped barrier islands on Florida's Southwest Coast. It's a natural upland that's home to native gopher tortoises, so named because they create burrows up to 50 feet long for protection- which also serve as refuge for other species including Florida mice, indigo snakes, rabbits and gopher frogs.

A must-do is Keewaydin Island, an eight-mile barrier island only reachable by boat or the Hemmingway Water Shuttle (leashed, well-behaved dogs are welcome to ride). No picnic lunch? No problem, because food boats like the flamingo-adorned In the Pink and Just Beachy Burgers & More have got your back.

In the heart of the Old Naples waterfront district is historic Tin City, the shopping and entertainment hub with storefronts staffed by local shopkeepers and casual seafood joints like Pinchers. The old Florida feel of Tin City is an authentic throwback to the 1920s when the construction of the Seaboard Airline Railroad turned this stretch of the Gordon River into a prime spot for clam shelling, oyster processing and shipyards. Sample tropical fruit wines from all over Florida at The Naples Winery while you stroll.

At the luxe Waterside Shops, there's an open-air mall with covered walkways, lush landscaping and bubbling fountains. Shop at high-end retailers like Saks Fifth Avenue, and dine at a variety of restaurants like the health-conscious True Food Kitchen.

Serious foodies head to Naples during the Sizzle SWFL Restaurant Weeks, when you can taste your way through the most popular restaurants in the region. The prix fixe promotion features multi-course meals at pre-fixed prices starting at $19 and takes place over three weeks in September.

Be sure to jot Tin City's Stone Crab Festival in your calendar. The party starts Friday, October 29th with the traditional cracking of the first Stone Claw followed by live music at Tin City (Naples' original downtown) by Tobacco Road Band and continues through the weekend.

From shelling to exploring the Ten Thousand Islands by boat, fancy shopping and a fun food scene, Naples is a coastal paradise that should absolutely have a spot on your Sunshine State bucket list.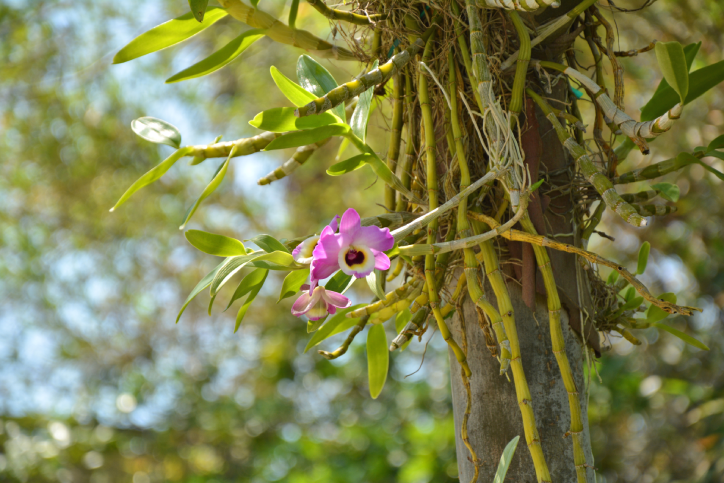 See Florida in Bloom at Naples Botanical Gardens
---
July 23
The Garden manages 90 acres of diverse natural ecosystems, known as the Preserve, ranging from high pine flatwoods to its signature wetlands restoration project, whose open water areas are a critical stopping off point for over 200 migratory birds. Have a look at the eBird database for the full list. Serious birders love the James and Linda White Birding Tower.

The eclectic Scott Florida Garden, with its sweeping view of the Preserve, is planted with native wildflowers and features Seminole chickee huts and pioneer cracker cottages along its pathways.
In addition, themed gardens showcase the plants and culture of the Caribbean and Southeast Asia.
Pro tip: During summer visits to the Garden, you might even see a ghost orchid- made famous in Susan Orleans' bestseller "The Orchid Thief"- along the Sönne Family Ghost Orchid Boardwalk.
Guided Eco-Tour
---
June 20
But for most, the main draw is a chance to see the abandoned Cape Romano stilt house, a complex of concrete domes slowly being reclaimed by the sea.
Legends have sprung up regarding the origin of the crumbling cluster of igloos (Utopian community? Evidence of aliens?) but in truth, the structures were built in 1981 to be the self-sufficient, eco-friendly vacation home of retired oil producer Bob Lee. Although the domes weathered hurricanes with little damage, the island landscape began to change, and erosion ultimately made the homes unlivable.
The abandoned domes now support a rich ecosystem, with divers comparing the diversity of sealife to Belize and Roatan. Cruises depart from historic Tin City in Naples.
A Prideful June by the Bay
---
May 14
Just a quick 5-minute drive to Cambier Park and you can start the fun with the 4th Annual Naples Pride Fest. From 11 a.m to 5 p.m, attendees can enjoy family-friendly events surrounded by entertainers, speakers, musicians, performers, activities for kids, and an array of tasty food and drink options. Those 21+ can keep the fun going at the official Pride Fest after-party until 2 a.m at Bambusa Bar and Grill. Bring your exclusive Pride cup and receive a discount on your cocktail! June 26th is a big day for celebrating, as the festivities continue at the Naples Zoo. From 9 a.m to 1 p.m, Pride at the Zoo welcomes guests with animal-themed exhibits and activities. Finish off the day with Naples Pride at Celebration Park, with a colorful Drag Show at 2 p.m. Reserve your spot now! A full list of all Naples Pride events can be found online, with links to any required tickets.
As a Florida or Georgia resident, book with us now and receive up to 20% off your stay for the best Florida Pride on the state's west coast.
Connecting with Wildlife in Naples
---
April 20
Corkscrew Swamp Sanctuary
There's no better way to get lost in the Western Everglades than to meander through just a sliver of 13,000 acres of wetlands and pine flatwoods. Just a little over 2 miles long, the boardwalk takes you through the largest North American old-growth Bald Cypress forest, where you'll be surrounded by 25-foot wide tree trunks, towering at 130 ft. Book a guided tour and see how many alligators, white-tailed deer, otters, and red-bellied turtles you can spot!

Naples Zoo at Caribbean Gardens
Get up close and personal to the animals that share our Earth! The Naples Zoo at Caribbean Gardens offers experiences the family will never forget; feed the giraffes some lunch or finish the day on a Primate Expedition Cruise. Catch a showing of the Seated Safari, and make sure to attend a Reptile Encounter to learn all about some Florida favorites

Florida residents looking to get away for the weekend within their state borders can enjoy 20% off their stay! Book now for your next summer escape.
Pickleball Buzz in the Bay
---
March 10
Deemed as the largest pickleball tournament in the world, The Open is an experience in itself. Pickleball is an exciting combination of elements originating from tennis, badminton and ping-pong. These lively games produce a high-energy community spirit in the crowd, and you don't want to miss out. A full event-filled schedule can be found online for the week, and CBS Sports Network will be broadcasting the Women's and Men's Pro Finals from 7:00 - 9:00 pm !

The best part is that this experience is free aside from a daily parking fee. Additional Expo vendors will be set up where you can enjoy delicious food. Enjoy a cold drink in the Landshark Beer Garden while dancing to the local artists in between games. Make sure to enter the lottery for a chance to purchase a ticket to the famous Zing Zang Championship Court. Sign up here to get lottery information and the link to enter.
West Coast, Best Coast
---
February 26

Soaking up the sun all day can be exhausting, so you want to start your morning right. Head to Cafe on the Bay, where you can catch that caffeine buzz after a delicious breakfast right on the marina. Not even a 10-minute drive down the street, Naples Beach is waiting. Catch up on your vitamin-d and head back to the pool to rinse off the salt, but first, lunch at Blue Water Bar and Grill. After a busy afternoon on the go, slow things down and treat yourself to a spa package. Nothing feels better than a 50-minute stone massage paired with a 50-minute facial when you're vacationing. It's a no-stress zone at Naples Bay! After happy hour drinks and a delicious dinner at Nosh, hit the water for a 50-minute, private and magical sail through the marina on an authentic Venetian gondola. Whether you're traveling solo or with your loved one, La Gondola accepts reservations every day between 1 PM - 9 PM, with the season ending on April 9th.
Traveling with a group is always helpful when splitting costs; book a spacious suite for three nights now under our daily rate and receive the 4th night free!
Festival Filled February
---
January 28
You've indulged in breakfast in bed, spent the day at the spa, and dipped in the refreshing pool after a whole lot of lounging; it's time to leave the resort and dive into the sea of locals.
Naples Seafood & Music Festival; February 4-6
The Naples Italian American Club will be hosting the Naples Seafood & Music Festival the first weekend of February, and all are invited! Admission is free, and the delicious, locally-sourced, seafood is cooked on-site, with vegetarian options available. Browse through the marketplace for an art & crafts souvenir, and pick a spot to enjoy a drink paired with live music. A full concert lineup is available now online.
2022 Asia Fest; February 12th
It's always a plus when you can absorb an educational moment on vacation. On February 12th, the Asian Professionals Association of SWFL invites you out to the Mercato Event Lawn to celebrate the Year of the Tiger! From 10 am- 4 pm, enjoy an array of Asian cuisine, traditional Asain costumes, dance performances, and cultural parades. Head online now to stay on track with the schedule.

Naples National Art Show; February 19-20
Bringing together some of the finest art in the country, the Naples National Art Show heads to Cambier Park on February 19th and 20th. The locals encourage vacationers to attend this award-winning event, as it has proved time and time again to make it in Sunshine Artist Magazine's "top art shows in the country." The Naples National Art Show is held as a fine arts and craft competition, showing off displays in 17 different categories, with artists having the chance to win up to $5,000!
Boating in the Bay
---
December 22
Inspire the family to hit the water! Whether you plan on renting or bringing your own boat on vacation, being the only resort in Southwest Florida directly on a marina, it's time to dock right in front of your room to welcome in the new year with a blast!
Prep your day for sailing the Gulf right here at Naples Bay. Some beneficial amenities for your day on the water include an onsite fuel dock for Rec 90 non-ethanol, complimentary pump-out services, and dock box storage. If you're traveling with a group, rentals for our Bennington 23' pontoon boat are available to enjoy a day out on the beach of Keewaydin Island. If you're traveling solo or with a significant other, a relaxing kayaking session exploring a mangrove forest is a great way to get up close and personal with native wildlife.
We highly encourage you to bring your own boat year-round for a fishing trip, or a leisure day out on the sea, but this January 20-23, feel free to do some "window shopping", or should we say "lot browsing", at the 2022 Naples Boat Show. Attend the biggest boat show in the Naples-Marco Island at the Naples Airport from 10 am- 5 pm all four days. A full list of exhibitors and tickets can be found online.
Holiday Magic Naples Style
---
November 24
From now until December 31st, Third Street South and the Avenues Shopping District is the place to go if you really want to get into the spirit. Christmas on Third returns with festive Thursday and Friday evenings; shoppers can enjoy live music, a Florida "snowfall", decorated storefronts, and thousands of dazzling lights. Traveling with your fur babies? On Sunday, December 5th and 12th Santa will be available for snapshots with your pets!
About a 5-minute drive away, Christmas on 5th Avenue South invites you to come balanced, as the synthetic ice, half-block skating rink returns on the west end of Fifth Avenue South. Although the ice will open December 3rd from 6 p.m. to 10 p.m, you can enjoy the rink with extended hours on December 4th, from 10 a.m.-10 p.m.
On December 11th, make sure to give yourself time to pick a great viewing spot for the Christmas Boat Parade on Naples Bay. You actually might be able to catch the lights from your balcony at the resort. Follow the lights from now until December 23rd, and then again from December 26th- December 30th, to Naples Botanical Gardens. Continue to feel the magic of decked-up light displays during Johnsonville Night Lights in the Garden. This year features a new family-friendly exhibit, and tickets can now be purchased online. You'll also have the chance to return after bringing in the new year on January 1st and 2nd.
Nuptials in Naples
---
October 20
No matter what time of year you decide to tie the knot, Naples Bay Resort & Marina promises an experience of a lifetime; especially since a west-coast wedding ensures phenomenal sunset photos.
Book your wedding with us and you'll receive a luxurious suite with a view of the marina. Imagine starting your morning at The Spa for some much-needed relaxation; your package includes 15% off services! Gather the group to party all day in your poolside cabana, then recollect for your rehearsal dinner, where you can pop your complimentary bottle of champagne.
On the day of, we focus on you, and only you, with no other weddings sharing the venue. Our dedicated wedding planners, along with a prestigious culinary staff, look forward to tending to your personalized day, while you soak up every minute with your friends and (new) family. Don't forget to hop on a shuttle the day after "I do" and head to the white sand shore for a day of recovery and reflection as newlyweds.
A Night on 5th Avenue
---
September 21
A trip to a bustling shopping district for the night is just minutes away at Fifth Avenue South.
Fifth Avenue South is Naples' premiere shopping district, tucked in the Downtown area and boasting a variety of shops and restaurants for you to explore with your friends and family.
Once the unofficial "Main Street" and city center in Naples, Fifth Avenue South is not only a hub for nightlife, but a cultural beacon with a well of authentic Naples history hidden in every corner. From the classic Floridian architecture that decorates the streets to the Depot Museum that captures the glamor and elegance of the railroad boom of the 1920s.
Take your time strolling through the bustling shopping district where you can shop, dine, play and learn—from restaurants and museums to art galleries and luxury clothing stores.
The History of Otter Mound
---
August 10
Just a short drive away from Naples Bay Resort & Marina, the community of Goodland is home to a 40-acre shell mound that is believed to be created by the Calusa Indians.
Likely once home to the tribes' village, the shell mound created a tropical hardwood hammock over time, and due to rapid development in the area, Otter Mound is one of the few remaining tropical hammocks in all of South Florida.
Feel the history of the site as you wind through the nature preserve's tropical trails, look up at the beautiful canopy trees, and soak up the surroundings. Plenty of benches line the path, so you can stop to take it all in and go at your own pace. However you appreciate nature, you'll be sure to enjoy the unique beauty of Otter Mound.
Make Your Way to the Collier County Fair
---
March 02
If you plan on visiting Naples anytime from March 12 through March 28, then you're in luck: the Collier County Fair is in town and ready to provide you with endless entertainment.
Every year it seems like the Collier County Fair gets better and better. When 7 of the 30 rides are classified as "Super Rides" that are designed to make you regret that world-famous corndog, you know you're in for a good time. Whether you want to ride the traditional Ferris Wheel or try your luck at something more daring, the Collier County Fair is ready to satisfy your adrenaline-fueled needs.
Of course, there's so much more to the fair than rides. You'll get to see dazzling live shows that feature everything from daring humans to performing tigers. Try your luck at winning some carnival games and get that oversized tiger that looks just like the one in the show. At the very least, you'll get to walk away with delicious fair food and a good story.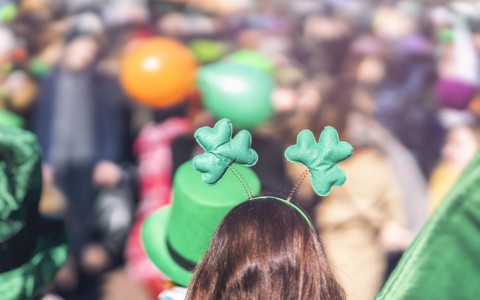 A St. Patrick's Day Celebration Like No Other
---
February 03
If this is the case, then this is the best year to find out for yourself! Every year, Naples throws a giant St. Paddy's Day parade that draws almost 50,000 people from all over the world and is the largest such festival in all of Florida.
The Naples Annual St. Patrick's Day Parade began over 40 years ago when a group of friends decided to really step up the celebrating of their Irish culture. Excitement for the event grew each year until it became the monstrous parade we see today.
The parade will travel down 3rd Street South to 5th Avenue South, then will turn and head down 8th Street South until it ends at Crayton Cove. Dozens of unique, handcrafted floats, as well as countless live performers, will take part in the festivities.
A ceremonial flag-raising will kick off the show at 9:30 and the official parade moves out at 11:00. Come entertain the whole family and support a good cause. Through sponsorship, this parade has raised over $200,000 for local high school bands and scholarships in the last half-decade alone.
Explore Local Talent with Art in the Park
---
January 06
Art in the Park has been a monthly staple of Cambier Park since 1957 and serves as a way to showcase the talent of local artists.
In addition to being a showcase, Art in the Park is also a competition. Local artists want to impress and become well-known, so they submit their favorite artwork to be inspected by a panel of judges. See who makes the cut and walk away with a new favorite. Who knows? You may even want to register your own artwork for viewing!
The next event will be February 1st, from 10:00 am to 4:00 pm, and a new time will be selected every month. Art in the Park is a completely free event, and of course, the works themselves are usually for sale. Come with an open mind and leave with that perfect painting for the living room.
Fireworks by the Pier
---
December 02
The city of Naples puts on a great show that can be seen from many parts of the city, but the best seats of the house are definitely on the pier.
This free event takes place on Tuesday, December 31 from 7:00 to 8:00 pm. A special blend of fireworks will light up the sky with mesmerizing patterns of spirals, exploding flowers, and other multi-layered wonders. The best seats in the house will definitely fill up early, so make sure to arrive before 7:00 if you want front-row seats to the show! Make sure to bring your lawn chairs or blankets because this fireworks show will be a whopping 30 minutes long. Bring the whole family (but not the pooch this time) and have a great time as you prepare to usher in the new year and say hello to 2020!
The Carnival Comes to Naples
---
November 04
The annual Fall Carnival is one such event and is making its way back to Naples from November 14 through November 17 at Eagle Lake Community Park.
The carnival will feature all of the adrenaline-inducing rides you're used to, as well as the more relaxing ones like the Ferris Wheel. Show your love for getting upside down and being spun around really fast. The Carnival will also feature games and overstuffed prizes that you can barely carry around. Of course, there is also the main reason why people go to Carnivals: food! Put your calorie counting away for the day because funnel cake, corn dogs, and everything between are here to remind you what a Carnival is all about. The Carnival will be around for four days and will be open from 6 to 10 pm on Thursday and Friday, from 3 to 10 pm on Saturday, and from 2 to 10 pm on Sunday.
A Very Naples Halloween on 5th
---
October 07
Trick-or-treating around the neighborhood is usually a safe bet for some fun, but this year, we encourage you and your family to explore Naples a bit. Those looking to adventure around town are encouraged to join the thousands of other spooky monsters for Halloween on 5th.
Halloween on 5th is a giant yearly Halloween event ready to take over Naples' 5th Avenue South. The entire street will be closed off for the festivities, and you'll see why! Live music will be heard throughout and will set the tone for some world-class trick-or-treating. Costume contents will try to find the best of the best so bring your a-game. The streets will be flowing with ghouls and witches as well as professional street dancers and all the games your family can handle. This year, step out of the neighborhood and experience an energetic Halloween extravaganza with Halloween on 5th.
A Taste of Paradise with Wine Around The Water
---
September 02
The Village Shops on Venetian Bay is your one-stop-shop for a true Naples experience.
The Village Shops may normally be known for world-class shopping opportunities and the finest gourmet dining around, but this September, the center stage will be occupied by Wine Around The Water. On September 28 from 5:00 pm to 7:00 pm, The Village Shops invites you to sample wine from more than 20 shops and restaurants with the most beautiful view around.
For a $20 donation, you will receive a custom wine glass, a discount pass for six restaurants, and your passport to drink around the world (well at least around the shops)! All proceeds from this event will go to SNIP Collier, a charity organization dedicated to spaying and neutering services that protect our furry friends. Speaking of which, you will also have the chance to play with adoptable dogs from the Gulf Coast Humane Society of Fort Myers. Who knows, maybe you will even find a partner in crime. We look forward to seeing you there!
Day Trip to Marco Island
---
August 05
If this is news to you, then you'll be ecstatic to find out that this one lone developed island is right here in Naples' backyard; of course, we're talking about the one and only Marco Island!
Marco Island is a paradise retreat just a short ferry ride away from the Naples coast. Here you will find luxurious dining and shopping as well as some of the most pristine beaches Florida has to offer. Guests who want to explore these beaches can do so casually or through the many excursions offered by locals.
A short trip around the island will bring visitors to the Collier Seminole State Park where primitive camping, canoeing, boating, picnics, and fishing are all a part of the journey. Those who venture out into the ocean will find the legendary dome homes floating off the coast as well as the option to learn about their history. If time permits during your stay in Naples, a day trip to Marco Island is an absolute must to get the full experience!
Have a Wild Time at the Naples Zoo
---
July 01
This adventurous face of Naples is none other than the famous Naples Zoo. This zoo boasts all the spider monkeys, giraffes, and black bears you can handle.
You're not the only one who loves the summertime sunshine (well sometimes). You're also not the only one who has mastered the art of cooling off. Come see how endangered clouded leopard kittens Janet and Jean beat off the summer heat. You could also see an up-close Florida panther in case you've never been fortunate enough to find one in the wild.
This zoo is sure to be fun for the whole family. Show the kids how long a giraffe's tongue can get as they hand-feed these long-necked giants. With discounted group rates and membership discounts, there's no better time than today to get your wild on.
Fun and Educational Tour of Naples
---
June 03
Naples has a rich history that is well worth exploring and knowing more about the city makes each adventure that much better. Naples Trolley Tour is a unique way to both see the city and learn first-hand about its colorful past.
The trolley begins its run at the Experience Naples Welcome Center and proceeds to venture out through Naples with 21 stops along the way. The experience is Hop On, Hop Off so feel free to stay for the entire ride or hop off at any location and explore before hopping back on when another trolley arrives. Your tour comes with an enriching narrative of the city and its history with just enough light humor to keep you engaged. Not including any time you take off the bus, the tours run about 2 hours so grab your ticket and see Naples in style!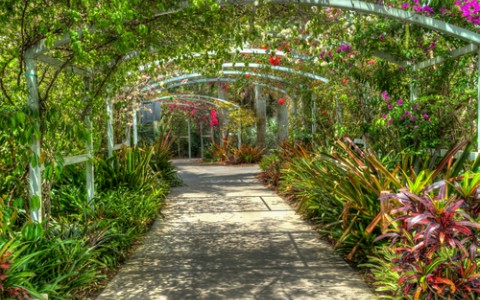 Marvel at the Naples Botanical Garden
---
May 06
The Naples Botanical Garden is a 170-acre plant lover's dream dedicated to showing guests the beautiful floral diversity that the world offers.
At the Naples Botanical Gardens, displays are grouped in ways that allow visitors to experience a specific type of immersion. The Chabraja Visitor Center welcomes guests with three unique gardens dedicated to showcasing tropical landscapes, charismatic plants with intriguing flowers, and a world-class orchid garden. Next, guests can venture out into the world and find themselves lost in the Kapnick Brazilian Garden. The South American, rainforest-inspired landscapes then fade into the Lea Asian Garden. Here, exotic plants and garden architecture will allow you to get you're still in Florida. The world tour re-enters the world of familiarity a trip through the Caribbean Garden and eventually back home to see rare native plants at the Scott Florida Garden.
Outside of the main gardens, there is also a featured 90-acre sanctuary called The Preserve where visitors can observe rare Florida wildlife in its natural habitat. Families must be sure to stop by the Children's Garden for a unique fun, educational experience and maybe even some hands-on gardening! The Naples Botanical Garden is open daily from early morning to 5:00 pm so make sure to add a stop at this local gem to your Naples visit!
Enjoy the View at the Naples Pier
---
April 01
The best way to take in this beauty is to see it from the end of the 1,000-foot pier lining the pristine beach. The Naples Pier is one of the oldest structures in Naples and is one of the longest piers in all of Florida.
You're sure to be entertained whether you just want to take a leisurely stroll or relax for several hours. Those patient enough might catch a dolphin sighting as they are very frequent and with the pier open 24/7, you have many opportunities to check and see. The surrounding area includes concessions and beach supplies; now beer and wine are conveniently served directly outside the pier. This Naples staple is located just two miles away from the Naples Bay Resort and is located at the west end of 12th Avenue South.
Drift Into the Past With Legendary Vintage Automobiles
---
March 06
Maybe you want to inspect the nooks and crannies of 60's Porsches that look like they're straight out of a James Bond movie. How about over 100 of them? If you answered yes to any of these questions and/or found your jaw has dropped significantly, then you'll want to check out The Revs Institute.
The Revs Institute brings you world-famous cars dating back to the 19th century! Come see the Mercedes that was nominated for Car of the Century and was the last one designed by Ferdinand Porsche before he started his own company. Stroll at your own leisurely pace or join a very recommended tour and experience a truly unique collection. The Revs Institute is open Tuesday, Thursday, and Saturday and requires tickets to be purchased in advance so make sure to plan accordingly!
Exploring Historical Fashion Through Contemporary Art
---
February 01
Their permanent collections offer a fascinating exploration into modern and contemporary art, while their unique array of traveling exhibits serve as the perfect accompaniment.
One such exhibit is Isabelle de Borchgrave's Fashioning Art from Paper, an exploration of historic costumes through modern paper sculpture. From exquisite replicas of Renaissance Italian gowns to fanciful recreations of costumes from the Ballet Russes, de Borchgrave's one-of-a-kind, lifesize pieces are acclaimed across the globe.
Designed to present her work to a broader audience, this immersive, breathtaking exhibit features examples from all of de Borchgrave's major series. Don't miss the opportunity to catch Fashioning Art from Paper, open at The Baker Museum from February to May of 2019.